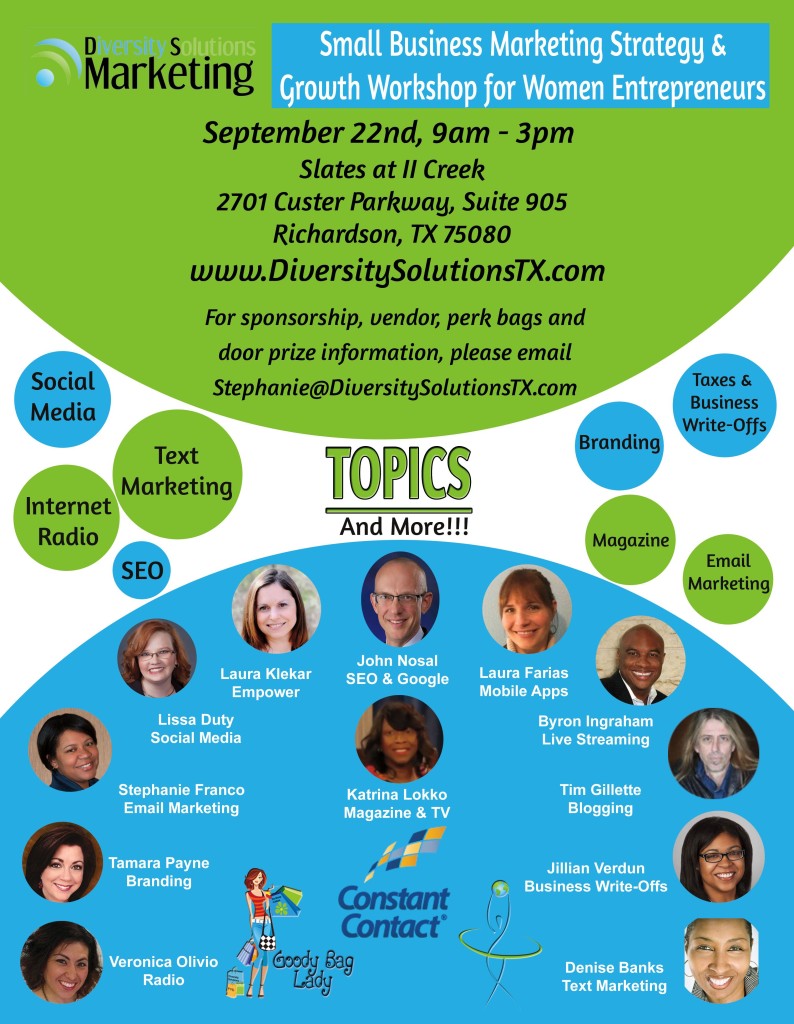 Small Business Marketing Strategy & Growth Workshop for Women Entrepreneurs
If you are a small business owner looking for ways to market, then this is the event for you. Spend the day learning tips, best practices from those in the small business marketing field. Gather with other small business owners for a day of networking, training, presentations, shopping and more. This is great preparation for marketing for the holidays and also kicking off your 2016 marketing & business goals.
Presentations include:
Magazine & TV, Email Marketing, Social Media, Internet Radio
Text Marketing, SEO, Live Streaming, Blogging, Business Write Offs/Profit Strategies, and more.
Attendee check in 8:30-8:45am
9:00am… Welcome
9:15am-9:45am Laura Klekar- The Power of OOMPH
10:00am-1030am
Lissa Duty: Social Media
Veronica Olivo: The Impact of Internet Radio
10:45am-11:15am
Tamara Payne: Values Based Branding
John Nosal : SEO & Google
11:15am-12noon-Break for lunch, shopping, networking
12:15pm-12:45pm
Denise Banks: Text Marketing for Your Business
Katrina Lokko: Traditional Media Platforms (Magazine & TV)
1:00pm-130pm
Tim Gillette: Blogging for Your Business
Laura Farias: Importance of Creating a Mobile App for Your Business
1:45-215pm
Jillian Verdun-Gilbert: Spending Plans and Business Deductions
Byron Ingraham: Leveraging Live Streaming & Video Marketing
230-3pm Speaker Panel, Email Marketing Tips, Door Prizes, shopping, wrap up.